LED 2 Foot Fiber-Optic Glow Baton
💚 1 Year Warranty
💚 Very User Friendly. Great for Kids Too!
Regular price
Sale price
$49.95
Unit price
per
Sale
SOLD OUT
LED flow props that are built to last a lifetime. Flowing with LED lights is both fun for you and provides entertainment for others. These are great for school groups and larger performances.
✖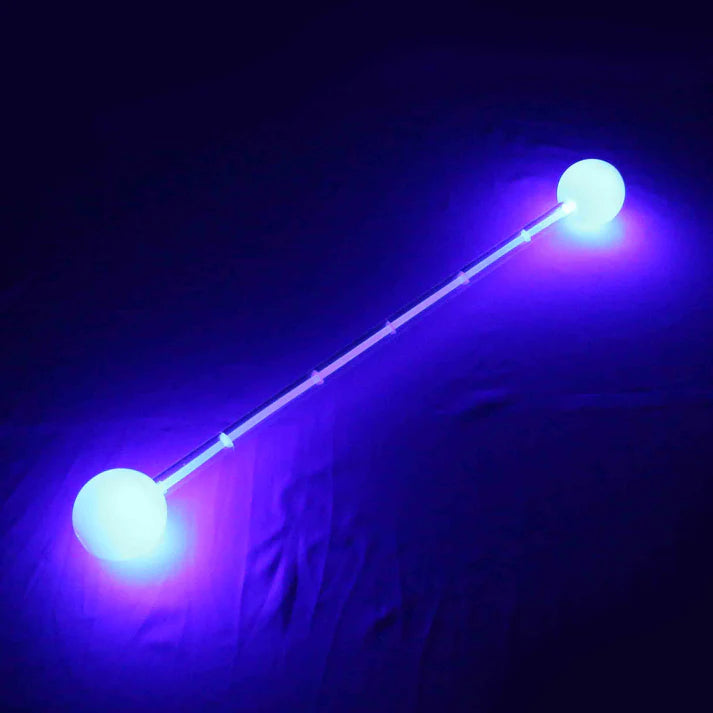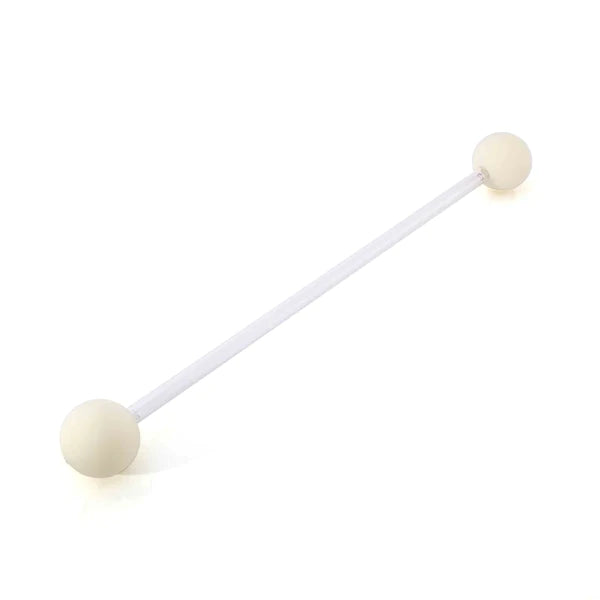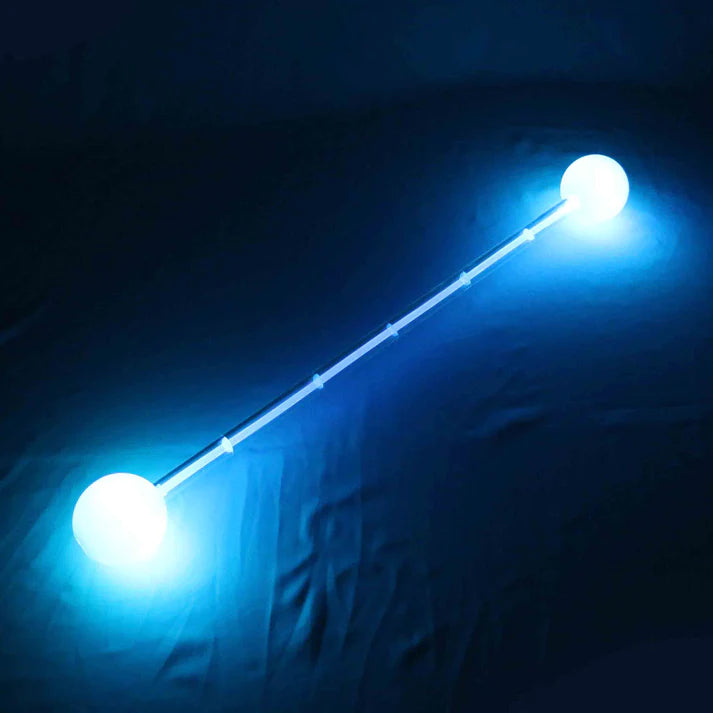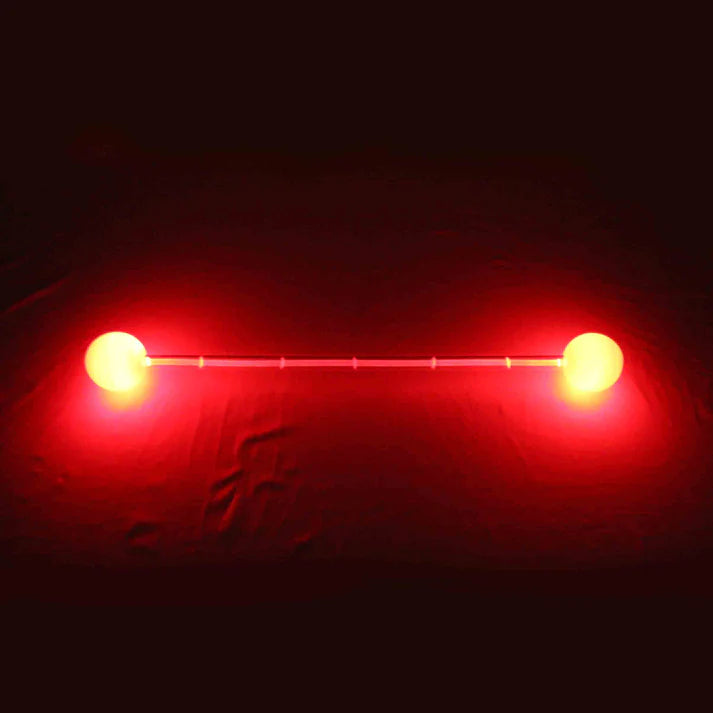 Description

Light Up LED Twirling Baton

Features two high powered LED lights fully enclosed in a tough transparent polycarbonate sheath which is then fully enclosed in a soft translucent silicone ball. The balls add weight to the end of the glow baton ensuring smooth twirling while simultaneously protecting the enclosed LED Lights ensuring a long life span of both the stick itself and the LED units.

 

The LED baton features a thick fiber-optic core running through the center of the baton which gives the baton a nice consistent glow all the way through the baton.

 

YOUR BENEFITS

Constructed from super strong and durable polycarbonate plastic.
Your choice of colors.
Comes with 6 batteries. 
Measures 24.5" long from end to end
One year warranty


The shaft is constructed from a perfectly translucent super tough plastic that has just enough flex to protect the stick from strong impacts without hindering play. 

Each LED unit takes 3 x L1142 batteries which are supplied with the glow baton. Battery life is approximately 3 to 5 hours of bright glow. Additional batteries can be purchased from our website at prices way below that of your average retail store.

Each end has one LED light, you can choose to have the same colors in each end or choose a different color for each, creating your totally custom glow!

 

Colors

Red 
Blue
White
Magenta
Turquoise
Green
7 Color Blink - changes colors every .5 seconds
7 Color Strobe - changes colors every .00025 seconds
7 Color Fade - changes colors every 3 seconds

 

 Color Options

 






Shipping

We ship FAST. Monday - Thursday. Our cutoff time for same day shipping is 9am PST. Read more here.Your order will ship out via the method you select at checkout.We promised to make sure each item is packaged with care - we also re-use packing paper in efforts to cut down on waste. Please make sure to read more on our shipping policy here as we will not be help responsible for mail carrier negligence in any form, but will aid in submitting claims if necessary. If you need your item shipped same day, please add the "priority processing" add on to your order.
Return Policy

The warranty on these LED props come with a 1 year warranty from date of purchase with intended use. If you should have an issue with your prop, please send an email to support@thespinsterz.com and describe your issue in detail with photos. If your prop should fail and it is determined that is is due to a manufacturing defect we will replace the product and pay for shipping. If your prop has failed due to misuse, we are reasonable people and we can talk about possible repairs that will not be covered by us.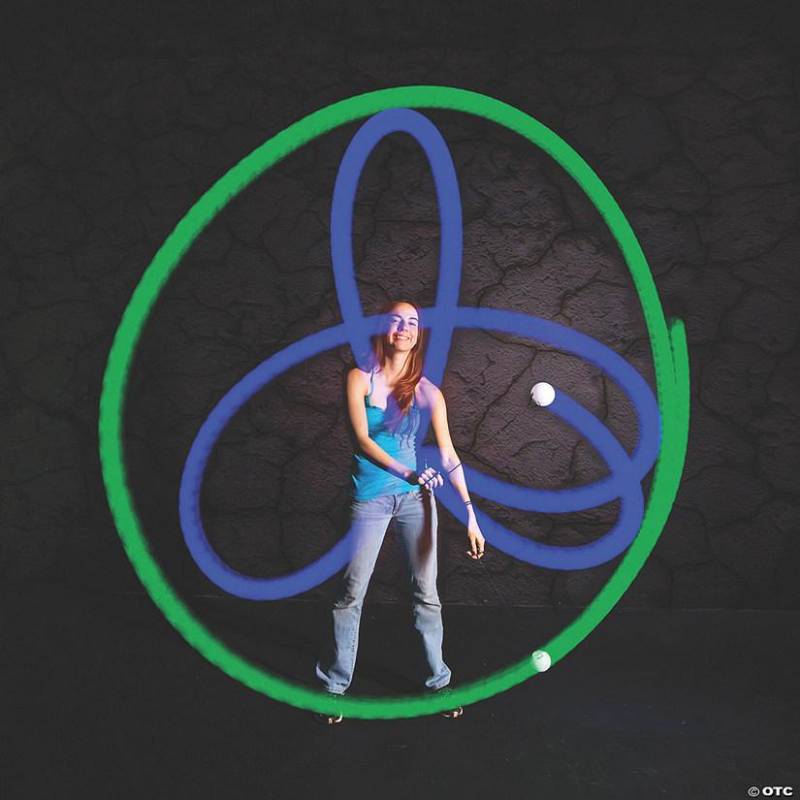 LED Flow Fun
Our line of LED Flow Toys by Light up and Juggle are the BEST LED props we've found that balance durability and ease of play.
They are incredibly simpe to operate, glow for a long-time, and will last you a lifetime.
These props are meant to take a beating and will handle being repeatedly dropped as you become more and more skilled in your flow.
These are a wonderful gift for kids as well. Just give em something that glows that they can't break, and the kids in your life will be happy for days.
Best investment I've made
Right off the bat, I could feel just how good the quality of the material was. "They look great on their own, and then once I turned them on in the dark, my mind was blown. I love glow in the dark/ anything glowy, naturally these looked amazing to me. My only fear was that dropping them a few times would mess up the lights, but have been using for ~1 month and have very proudly dropped them many times as I practiced and they still work just fine. Absolutely love these!!!"
Love it!
This is my second baton from Spinsterz. It's really fun to play with. Well-balanced. Perfect size. I went with the color fade on both ends. Very bright & pretty.
Thank you for taking the time to leave us a review :)
Love this baton!
I've been twirling for 35 years and have started teaching my daughter. She's really been into my fire baton and my initial plan was to get her one, but I saw this and thought it looked fun without all the hassle of fire. I was hesitant because it's plastic and I wasn't sure about the weight/balance. It came really fast and all my concerns were gone the minute I opened it. It spins beautifully! The shaft is thicker than I'm used to but that's to be expected. We got fade color on both sides and she LOVES it! It was her favorite Christmas present by far.
Fiber-Optic is great 💕
I love this so much! This is my first LED flow toy and it's a great! My only wish is that I could get it in a longer size to be a closer match with my regular spin baton
Thank you for the review and we are so happy you love your baton! If you are wanting something bigger I suggest looking at our glow staffs, they are almost the same just bigger/longer. Happy flowing! -Halle
Amazing as always!
Second baton purchased. Batteries last for a very long time and baton is always very durable. Thank you for the best customer service and product!
Good! We are so happy you love your baton! They are so fun! -Halle
Awesome!
I've had this baton a little over a year now. I love it and I use it all the time! The only thing I have to say about it is if you're use to throwing a standard metal baton this one is a little thicker and hard to do more detailed twirling with. Hopefully the fire baton will be back in stock soon! That will be my next purchase
Hello, We are so happy that you love and still use the LED baton! That is a fun one! -Halle