Ultimate Beginner Hoop
90 Day Risk Free Trial
✅ 1.3 Pound Hoop Optimal for Exercise
✅ Best Size Hoop for Beginners - 38" Diameter
Regular price
$0.00
Sale price
$49.95
Unit price
per
Sale
SOLD OUT
This hoop will help you relieve stress, improve your mental health and If you're looking to get fit while having fun, then this is the hoop for you!
✖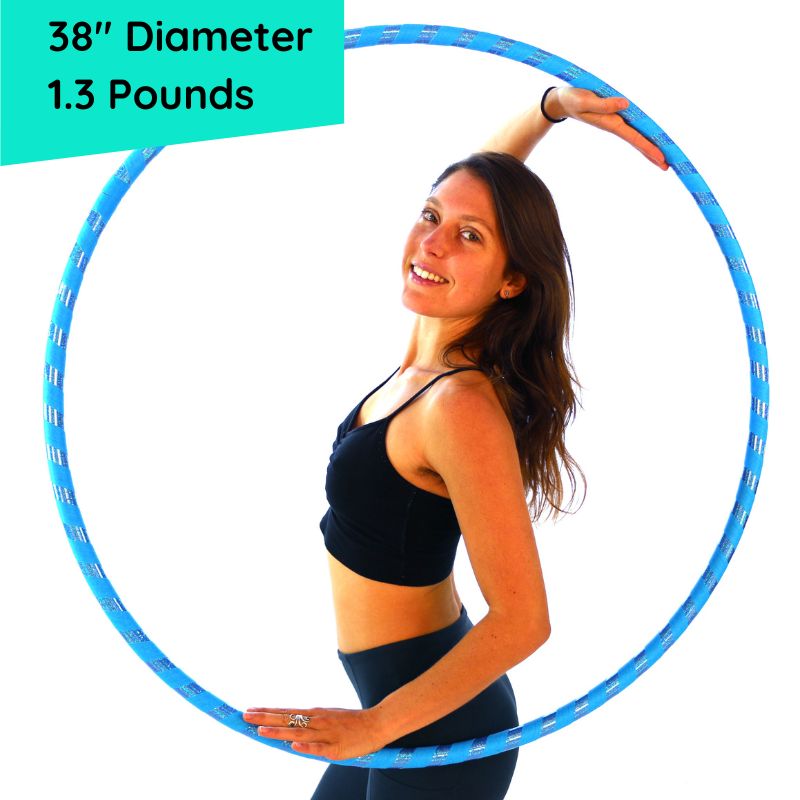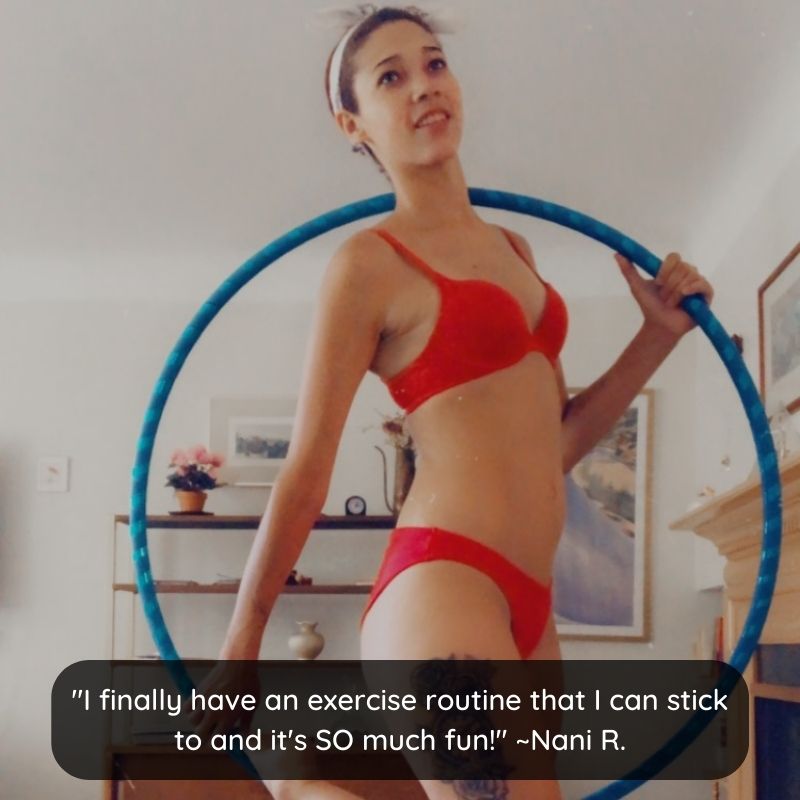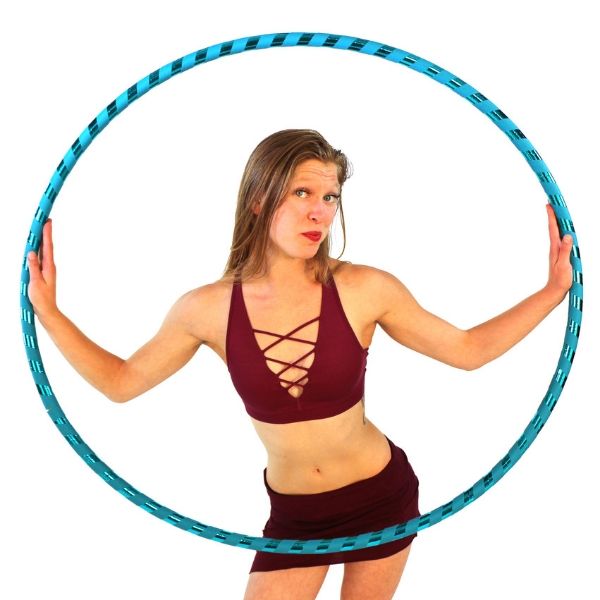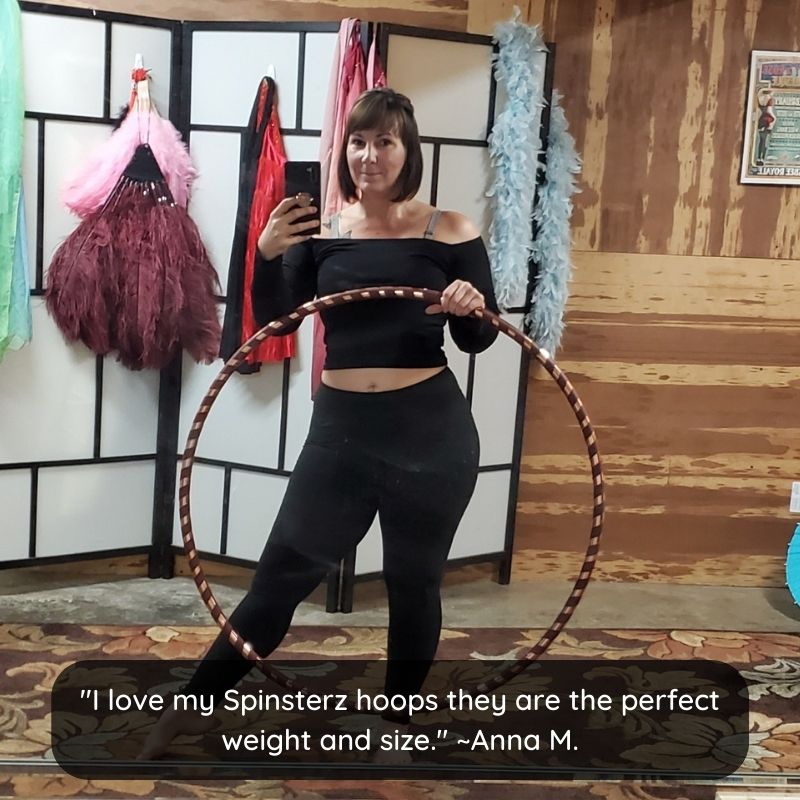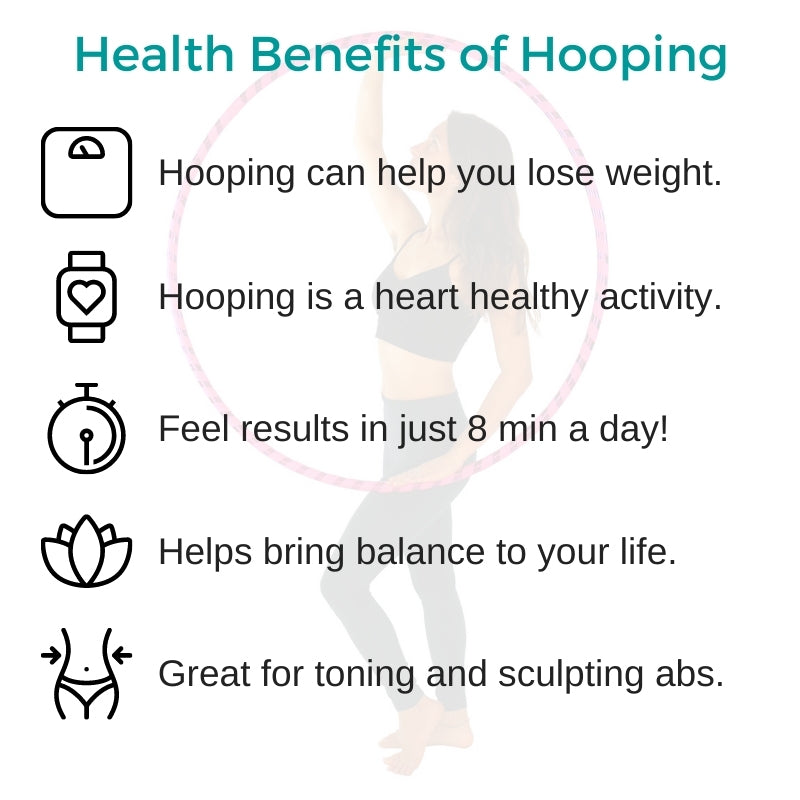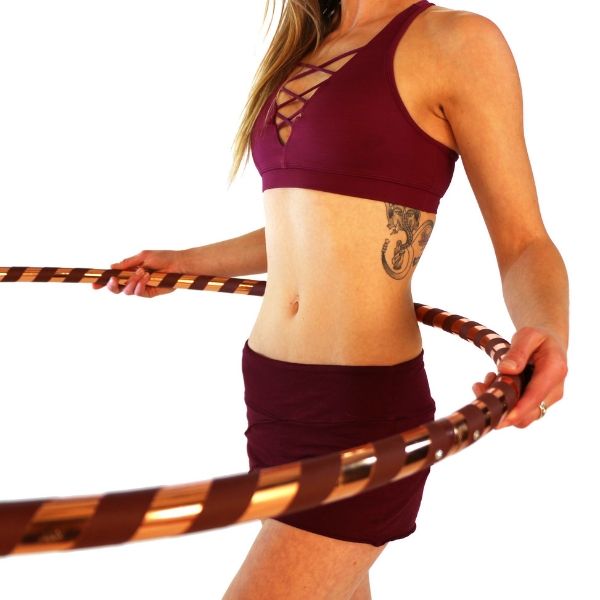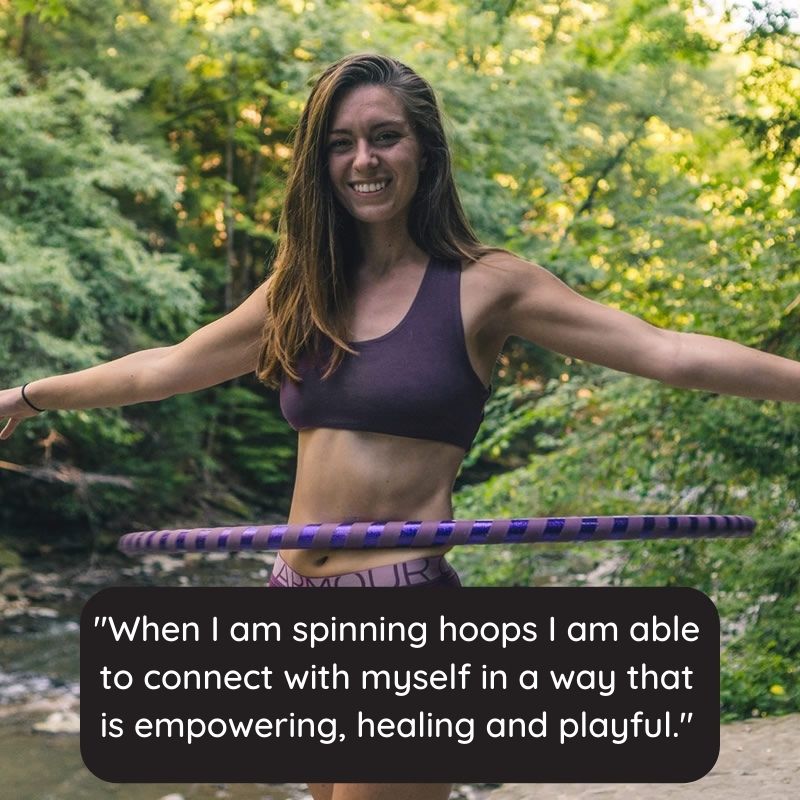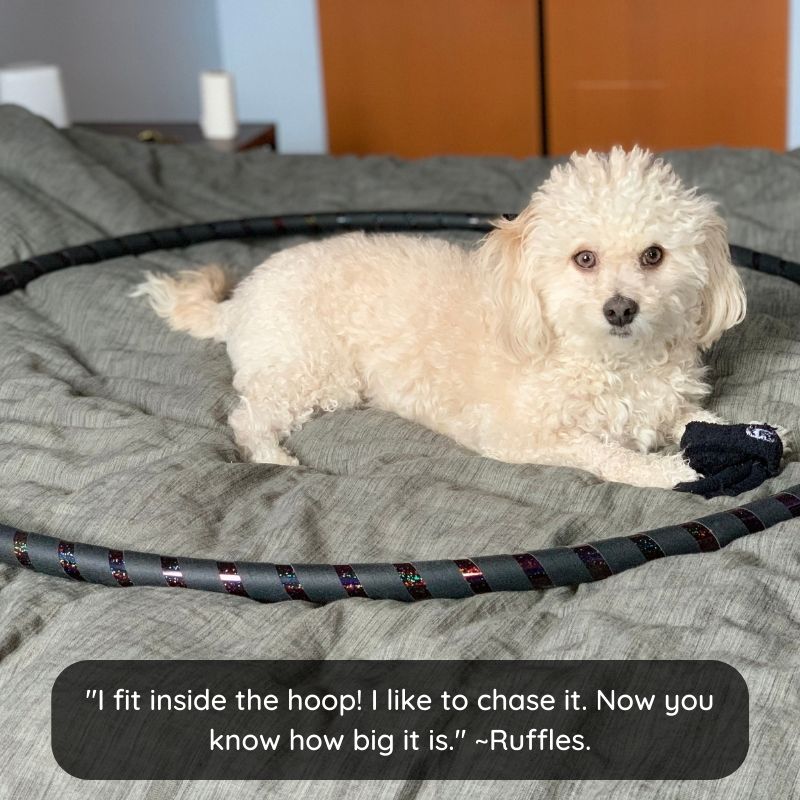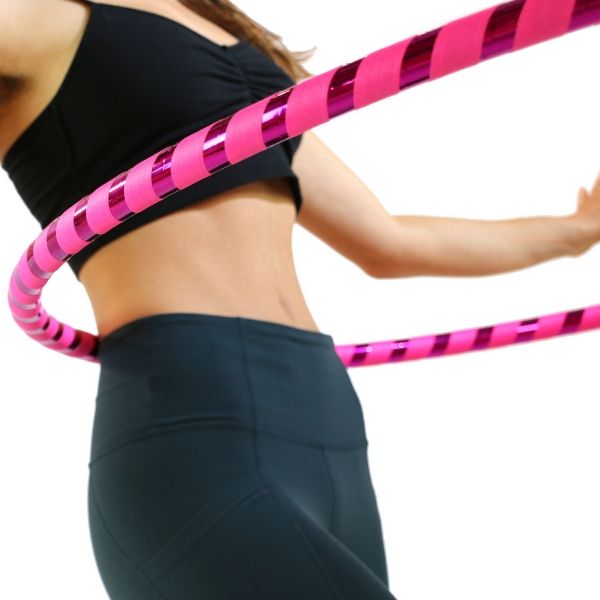 Our Unbeatable Guarantee
10,000 Spins or 90 Days Guarantee
If you're unhappy with your purchase, we'll find a solution for you.
We offer our customers our
10,000 Spins Guarantee
, if you are not happy with your purchase for any reason you may return it within 90 days of receiving your order.
Description

Our Dance and Fitness Hoops are made from a thick, heavier weight plastic material known as Polyethylene and it is best suited for beginners or people that are interested in adding hooping to their lifestyle. Every hoop is made by hand in Boulder, Colorado. Each hoop is taped with both a sparkly holographic metallic tape and then finished off with a grippy cloth tape that adds weight and gives you the maximum amount of grip.

🔰 HOOP SIZE 🔰
👉42" - Great for most beginners and those who prefer a larger hoop.
👉38" - The most common size for beginner hoopers. It works for pretty much everyone!
👉36" - Perfect for when you are progressing and want to learn tricks.

💚 SIZE RECOMMENDATIONS
👉 When standing vertically on the ground, the hoop should reach between your hip bone and 3″ above your navel.
👉 The larger and heavier the hoop, the easier it will be to learn with.
👉 The diameter of the hoop is the distance from one edge of the hoop straight across to the other edge.

💚 BEGINNER DANCE/FITNESS HOOP SPECIFICATIONS 💚
👉 Made from 3/4" 160 PSI Polyethylene
👉 Weighs between 1.3 - 1.5 pounds
👉 This hoop LOVES to travel and coils down to a smaller size with the push of a button.
👉 Your choice of color and size.

🔰 UPGRADES & ADD-ONS 🔰
👉 Make it a Portable Hoop - 🚩CLICK ME 🚩 http://etsy.me/2j7JH5m - Turn your hoop into a 4 section travel hoop.
👉 3-Pack of Hoop Stickers - 🚩CLICK ME 🚩 https://etsy.me/3RJipAC - Grab 3 of our most popular stickers.

🔰 Hooping Instruction & Workouts 🔰
👉 Hooping Core Workout 🚩CLICK ME 🚩 https://etsy.me/3RHgwEJ - A great instructional DVD for hoop workouts.
👉 Learn to Hoop: Quick Start Guide 🚩CLICK ME 🚩https://etsy.me/3llxvAh - Tips & Tricks to learn to hoop fast.

💚 BENEFITS OF HULA HOOPING 💚
• Increases confidence
• Stimulates creativity
• Improves your body's balance and flexibility
• Strengthens your body
• Improves your focus
• Strengthens your low-back stabilizing muscles, which can help anyone with a history of back pain
• Improves the spine's strength, flexibility, and alignment
• Helps you to develop a sense of body awareness
• Improves hand-eye coordination and motor skills
• Reduces stress and improves mood
• Boosts your cardiovascular fitness

💚 THE SPINSTERZ ADVANTAGE 💚
👉 Repairs? Just send us a message.
👉 30 day Exchange Policy
👉 Cheap Shipping
👉 Ships quickly
👉 In Business for Over 18 Years
Shipping

We ship FAST. Monday - Thursday. Our cutoff time for same day shipping is 9am PST. Read more here.Your order will ship out via the method you select at checkout.We promised to make sure each item is packaged with care - we also re-use packing paper in efforts to cut down on waste. Please make sure to read more on our shipping policy here as we will not be help responsible for mail carrier negligence in any form, but will aid in submitting claims if necessary. If you need your item shipped same day, please add the "priority processing" add on to your order.

Return Policy

The Spinsterz wants you to love your hoop!

Once your package arrives, we ask that you inspect your hoop to make sure it is exactly what you ordered.
All hoops are hand crafted and made to order for you, with the highest level of detail and dedication by our Hoop Elf Team, Christina, Brittany, and Jason, therefore, we encourage you to carefully choose your size, diameter and color. It is a custom made product for you.
We guarantee our hoops to land in your hands exactly the way we would want them delivered to us. Please follow the CARE instructions regarding hoops (included in package), or email us at support@thespinsterz.com with any questions.
If you are completely unsatisfied with your hoop, we will accept it for an exchange. We are unable to cover shipping costs associated with an exchange due to personal preference.
The Spinsterz will guarantee the craftsmanship of the hoop for 90 days from the purchase date, which means that if it breaks for any reason, we will repair or replace the hoop.

Taped hoops are expected to wear over time and cannot be returned for wear due to average/expected use.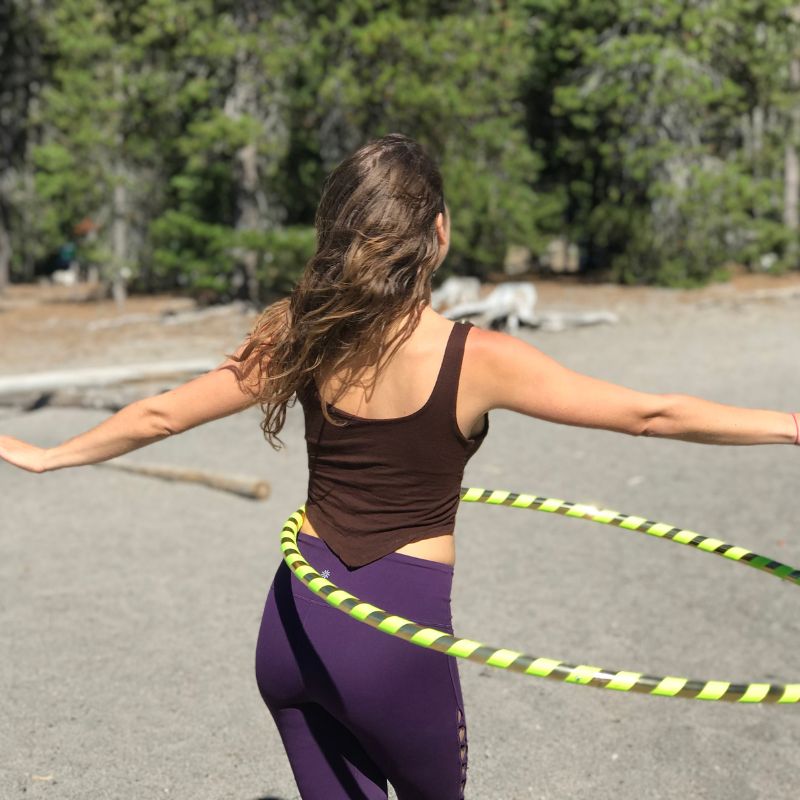 Who is This Hoop For?
This hoop is made for someone that is looking to be able to get started hooping in a very quick amount of time.
The easy to use 38" size is the "go-to" hoop for newbies and people like myself that have been hooping for more than 20 years!
It's both a great size to learn with, as well as a great weight and size for getting a good workout and keeping your belly nice and toned.
This hoop will be your new favorite dance partner.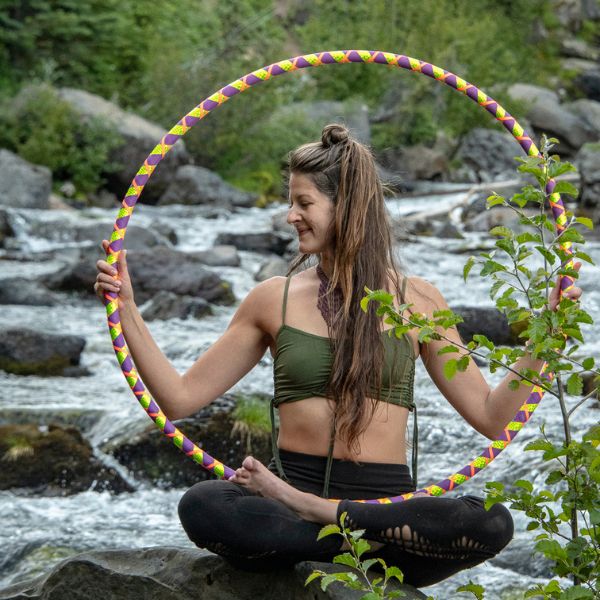 Hooping for Meditation and Clarity
Hoola Hooping is a great way to achieve a flow state, meditate and enjoy some moments of calm!
Flow states are considered to be the optimal state for creativity and increased productivity. That's because when you enter a flow state, your brain is operating at its most optimal capacity.
Practice mindfulness with hooping by focusing on the hoop as it spins around you. Clear your mind of any thoughts and focus solely on the physical sensations that arise as you spin. This can be very relaxing! And it is also a great way to relieve stress or anxiety because it allows you to clear your head from all worries.
Health Benefits of Hooping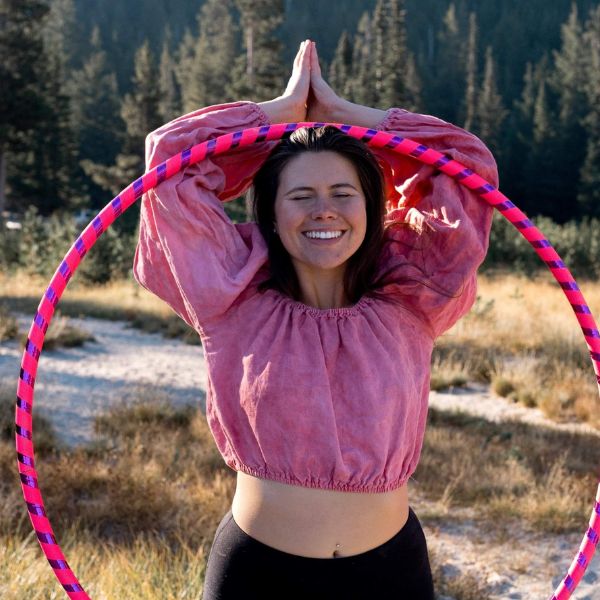 Hooping can help you lose weight.
 Hooping is a Heart Healthy Activity
 Experience Results in Just 8 Minutes a Day
 Hooping is an Easy Way to Learn to Meditate
 Great for Toning and Sculpting Abs
FAQ
What is the size and weight of this hoop?

You can select your preferred size (diameter) of hoop.

We have two sizes to make it easy for your to get exactly the size you need. 42" Large and 38" Regular.

The 38" hoop weighs approximately 1.3 pounds. (The tape choice will vary the weight by a few grams)

The 43" hoop weighs 1.5 pounds.
Is this a Good Size and Weight for Me?

Size

Yes! The 38" hoop is a great choice for just about every hooper. Whether you are just starting out or have been hooping for 20 years (like me, my go to hoop is a 38" one!)

If you are more full-bodied or weigh over 180+ pounds, I would suggest the 42" hoop.

Weight

Weight is WAY less important than you think. Everyone has been encouraged to believe that heavier is better, this is simply NOT true.

A heavier hoop IS easier to use as it carries its own weight and helps keep the hoop spinning.

This means that you get LESS of a workout when using a heavier hoop, because the hoop is doing most of the work for you.

Think of an electric bike, the motor helps keep the bike going and you end up pedaling less and getting less exercise. A heavy hoop IS the hoops motor.

If you do want a heavier hoop, check out the BodyHoop Joy or PowerHoop Deluxe.
Will this Hoop Work for Me?

Yes! Get the 38" size if you are just beginning or looking for an exercise hoop.

Get the 42" if you are on the more full-bodied side.
What is the Size of the Tubing?

The tubing is made from black Polyethylene and measures 3/4" in thickness.

Is it 160 PSI

This is the standard for out Beginner and Exercise hoops.

100 PSI is best for a Dance Hoop that you want to learn tricks with.

You can find those hoops here.
Can I Add Weight to It? Water, Beans, Rice?

Yes!

Except for the water.

Just open the hoop up and poor in whatever desired material you want into it. Popcorn, rice, beans, all work very well.

It makes a cool sound too!
What's the Difference in all Your Hoops?

The Ultimate Beginner Hoop is named this as it comes in only 38" diameter and it just makes choosing a hoop more simple.

All the hoops you are seeing in the Beginner / Exercise Collection are all the EXACT same build, weight, sizes.

The only difference is the name and the tape style.
Is This Hoop Weighted?

The MILLION dollar question! Yes, and no. It depends on your definition.

Amongst all us hoopers, the term weighted hoop just means any hoop that is NOT a dollar store Whamo made hula hoop.

This hoop is a LOT more weighted than a kids toy store hoop.

This hoop however does not have extra weight added to it.

If you are looking for a hoop that is heavier that this, please check out our BodyHoop Joy or PowerHoop Deluxe.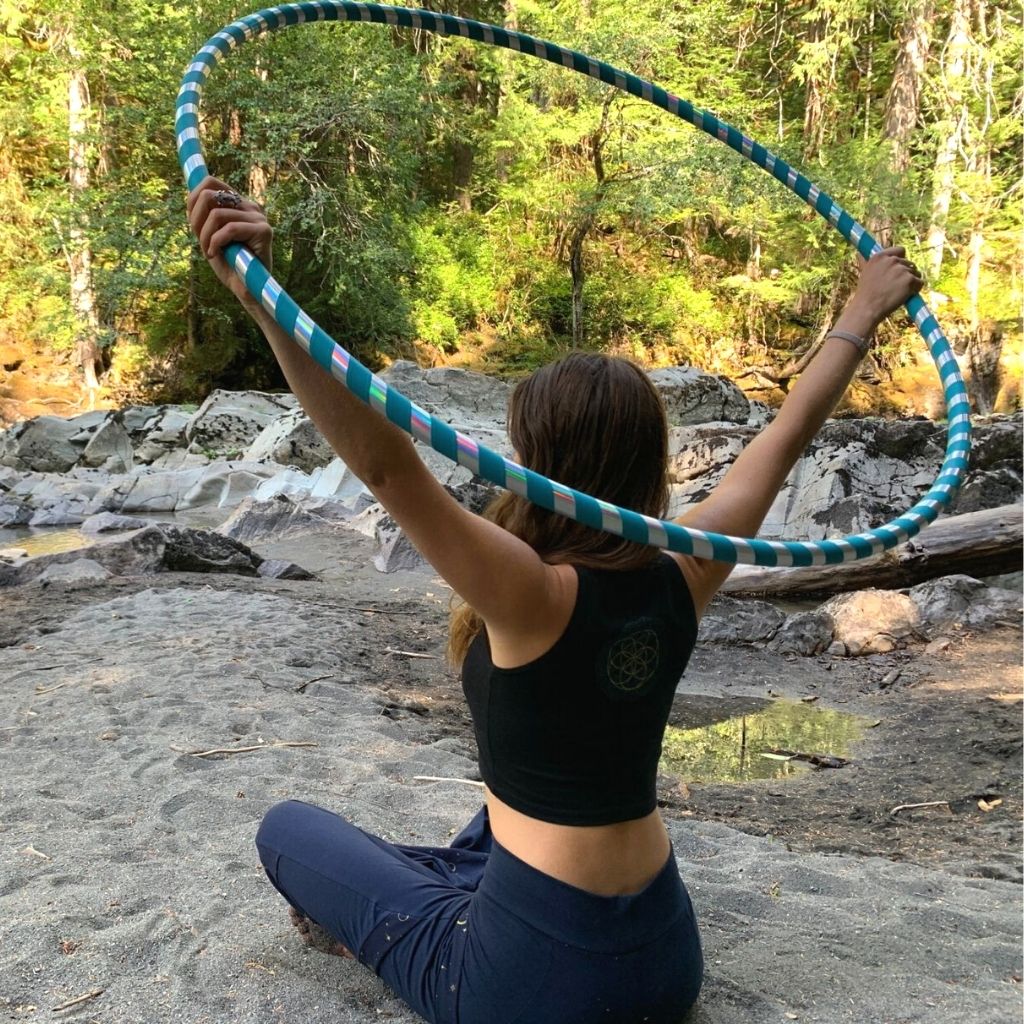 Lifetime Happiness Guarantee
Try your hoop out for 90 days, if it is not bringing you joy even after working with us to help you acheive your desired outcome, no problem! We'll pay to have it shipped back 💖
Our hoops are covered by a Lifetime Warranty as long as you own them. We will cover all catastrophic damage to your hoop including snapped tubing, broken connectors, and crazed festival goers that thought it was a good idea to use your hoop as a jump rope and instead of jumping over the hoop they jumped right ON the hoop and snapped the sucker. 😳
What our Customers are Saying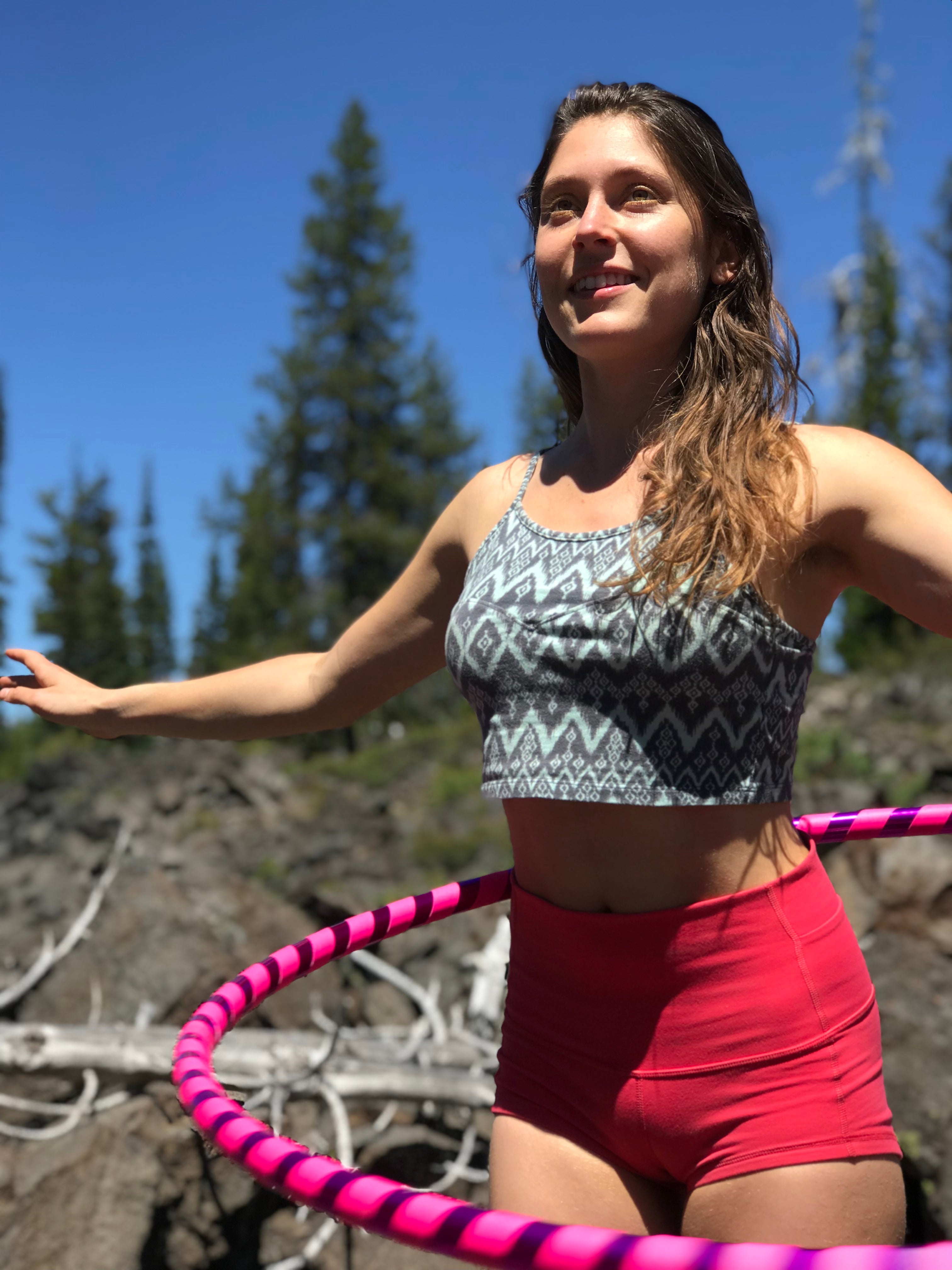 Slimmed Down Belly
Hooping has been an incredible game changer for me. I have never felt so free and happy in my life! I can't believe that something as simple as a piece of well made plastic can make me feel this way. Hooping is the best thing that's ever happened to me, and I recommend it to everyone who wants to be more creative!"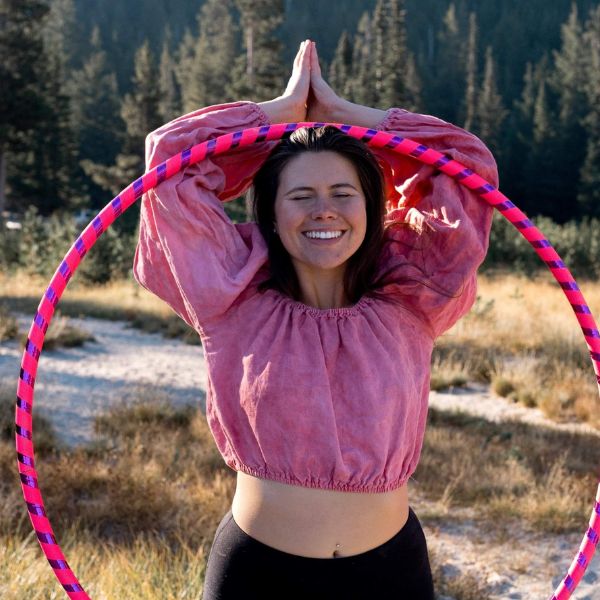 Hooping is Fun
I am so happy with my hula hoop, feeling like a little girl again healing my inner child and my lower chakras. This is excellent for energy work and it was perfect timing. ~ Sonya D.
"A fun, whimsical way to take a break from adulting"
Beth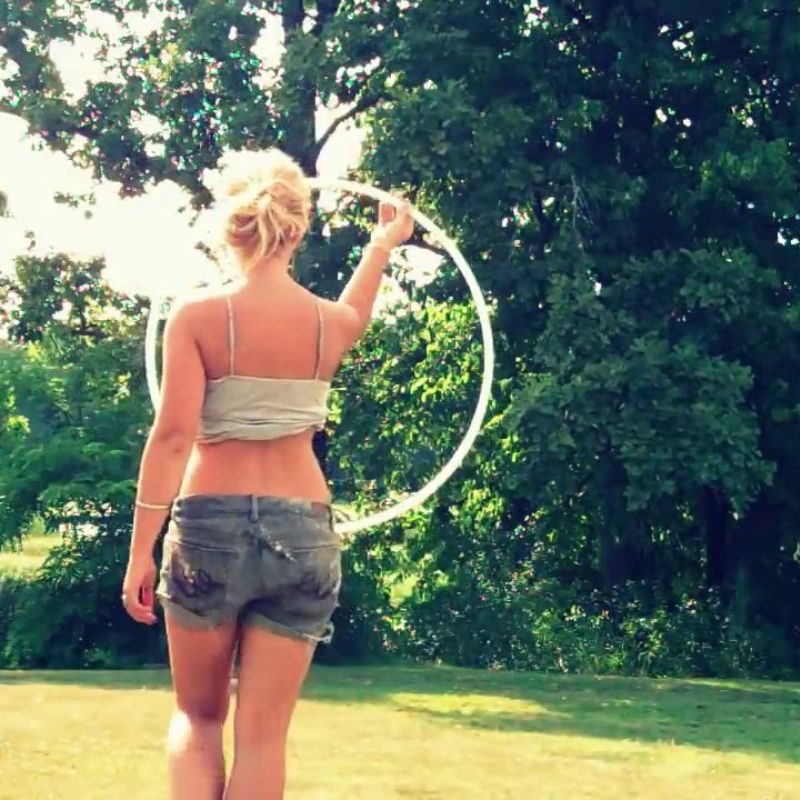 "Helps me regroup, recenter myself, and remember to feel joy."
Stacy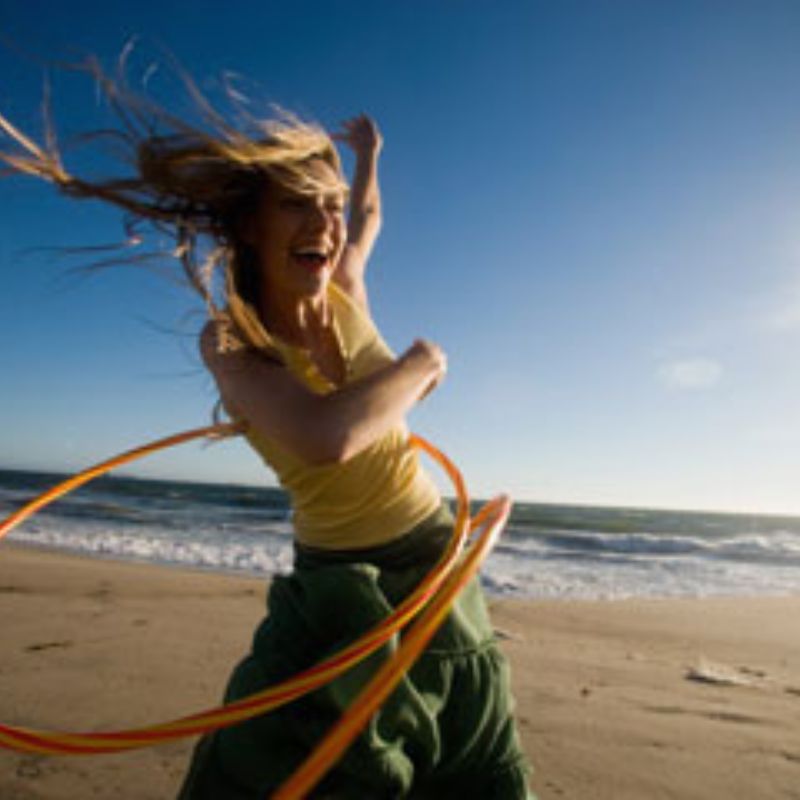 "So much fun I don't even realize I'm working out."
Patrica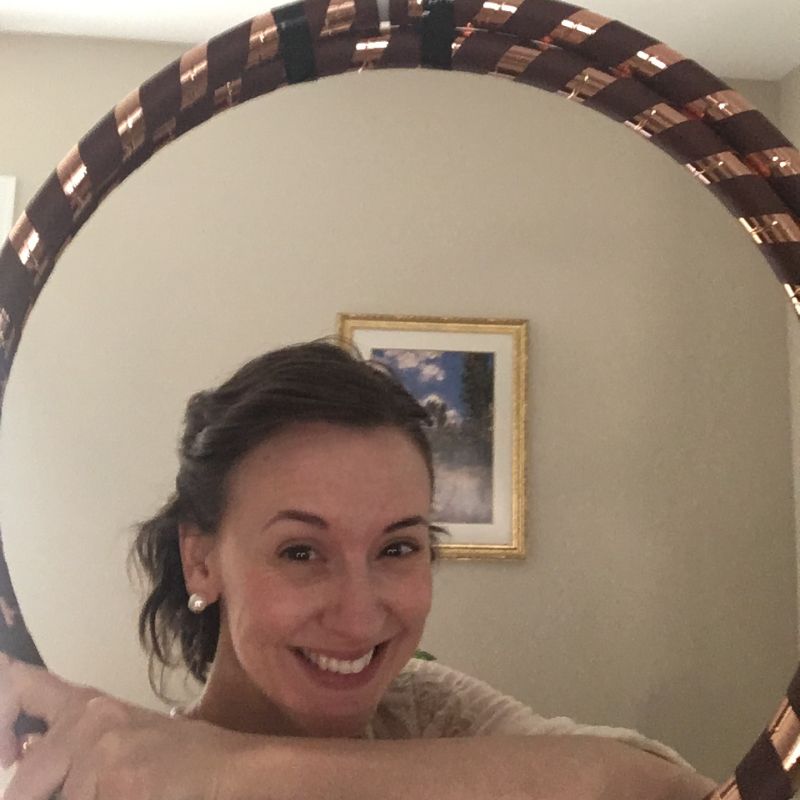 "My favorite anti-depressant. Instantly gets me into a happy, present, flow state."
Sierra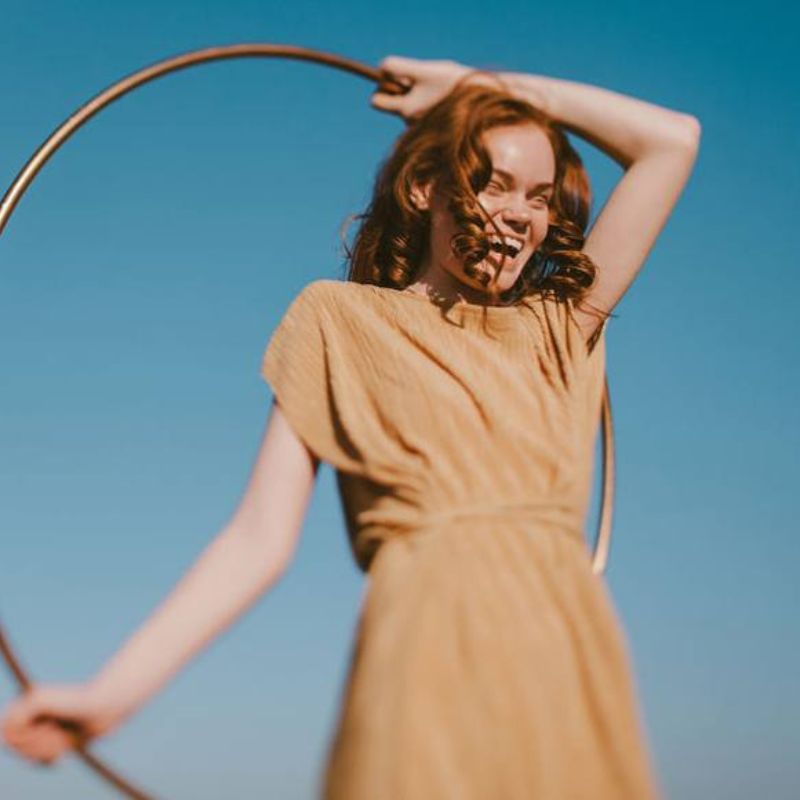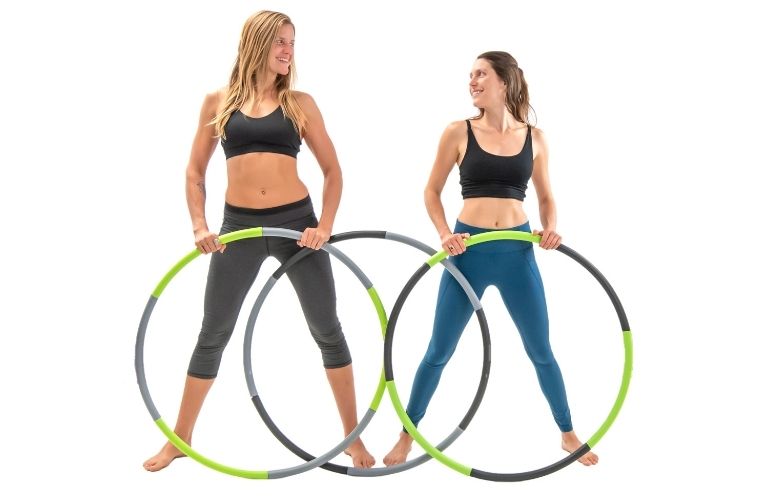 Wondering what hoop is best for you?
We'd like to help alleviate some of the frustration with hoop selection, so we created this short quiz to help you in your hooping adventure. 
Take this short quiz now to find the ideal hoop for you!
What's my hoop size?

VS
Others
Your hoop breaks, you're screwed.

Can take more than a week

90 Day No-Fuss Return Policy

If you don't like your hoop, too bad.

Free Repairs and Replacements

High fees charged or not even available.

18 Years of Experience & Dedication

Impeccable Customer Service ❤️
Still waiting for my hoops to arrive.
I ordered two hoops about 1 month ago and am still waiting to receive my order. I contacted customer service twice, once by email and the second time by phone. On day 21 of waiting, I let them know there have been no updates on the tracking for over 7 days and that I would like a refund or my order to be reshipped. They told me to just keep waiting. It seems like they don't care whether I actually receive the product I've paid for. They have been enjoying the use of my money for a month while I am still waiting for my hoops to arrive. I wouldn't be surprised, given the utter lack of accountability and responsibility they displayed throughout this ordeal if I ever get the hoops or my money back.
Hello!
I pulled up your order again and do apologize on behalf of USPS. We made and shipped your order out within 3 business days of you placing your order. I have already submitted a request to find your package with USPS, but have not heard back from them. Because black Friday clogs up the postal service, we are not going to offer refunds right away as this happens with just about everyone. As a small company, we cannot afford to refund everyone the moment their package is stuck. We do care, and we do the best we can to control packages that are no longer in our possession the best we can. We will not hold your money, but will do the best we can to get our hoops to all customers first, as they are handmade and take a lot of talent and time to make.
Mediocre - quality issue
I've tried emailing twice about this quality issue. I've only had my hoop two weeks and have gently used it indoors and the wrapping (tape and metallic material) is tearing in multiple places. Disappointing for a $50 hoop.
Hello!
Thank you for taking the time to leave us a review.
I have responded to your email this morning as to address the tape issue and get it fixed for you.
I apologize about the late response as we are off on the weekends and I see you sent an email on Saturday.
Beautiful hoop
Still trying to be successful. Harder and lighter than anticipated. If only there was a super-duper beginners hoop. Maybe I should've gone a heavier route.
Hi! Keep practicing :) You will get it! Often times, a heavier hoop is not healthy and can cause injury, so practice makes perfect and I know you will get it!
Too light
It needs more weight to it like the Whamo Shoop Shoop. The plastic was heavier and it also had little metal balls in it. This hula hoop is too light. A little bit of weight would make it easier to keep up. The hula hoops that come in sections lose their round shape and that makes it harder to keep those up. I'm not a novice user. I can hula hoop very well.
Hi Jennifer! Thanks for taking the time to leave us a review. The hoop you bought weights about 1.lbs, as stated in the description. If you are looking for a heavier hoop, we have a 36' padded hoops that weighs about 2lbs. We encourage you to always reach out with any concerns.
Thank you,
Daria